Frantz Locksmith Service (916)534-4900
Licensed Professional Locksmiths
Mobile LockSmith Shop - Safe Lock Key
Locksmith Service Sacramento - Yolo County

Safe & Vault Sales and Service, In Shop locksmith Service & Mobile.
From Repairing a Loose Dial to Opening, Cracking & Major Repair.
Sales - Annual Service - Combination Change - Open - Unlock - Repair
Commercial and Residential Safe Services:
Open or Unlock Safe due to Lost Combination, Malfunctioned Lock or Bolt Works
Professional Safe Opening by Manipulation or Drilling - Security Safes - Vaults
Combo Changes - Digital Keypad or Conventional Dial Combination Safe Locks
Safe Deposit Box Service, Keys Made, Deposit Box Opening, Repair
Kaba Mas X-09 GSA Security Container Lock Installation
GSA Container Servicing, Safe Opening and Repair to spec. MP Dial or X-07, 8 & 9
Key Duplication - Most Type Keys In Stock
Flat Steel key - Single Side key - Double Side key - Barrel Key
Parts & Repairs - Lock - Dial - Door - Hinge - Spring
Safes Moved - Floors Plated - Tile Padded
Digital Key Pad Electric Lock Upgrade
Lock Retro Fit and Up Grade to Higher Security
Loose Bolt Works Serviced - Parts Repaired or Replaced
Mobile On Site Standard and Emergency Locksmith Service
Safes - Electronic - Biometric - Combination - Locks - Keys
Safe sales and services for all types of Fire, High Security, Jewelry, Document commercial safes and residential safes.
We stock many smaller quick selling safes and order larger safes due to low floor space.
Our warehouse stocks most popular safes or orders factory direct with short wait time.

Our products include quality brands such as American Security Products or AMSEC, General, Adesco, Perma Vault, Simplex and many types such as money, jewelry, document, depository, high security, fire proof, TR - tool resistant, TL torch resistant or gun safes.

Offering AMSEC and Gardall safes, factory shipped delivered to our local warehouse in West Sacramento, CA.

FIRST Click the Guide & Download:

Click the thumbnails below to download the
AMSEC 2012 Product and 2013 GUN SAFE or Gardall Catalog:
____________________________
Is Your Lock, Dial, Key, Keypad or Lever Loose or Sticky?
Need a Locksmith Safe Cracker to Open A Safe?

Frantz Locksmith Service in Sacramento CA offers safe cracking, drill open safes, servicing, moving & repair.
Check out some opening, repair and unlock jobs,
Quality Safe Service by my company on FaceBook
Below is a Liberty Home Safe that had an electronic lock failure!

The combination was entered however the lever would not turn all the way.


The keypad was removed, the mini rig positioned, attached and a small hole was drilled,

The Liberty Home Security re assembled, the lock tested for reliability and works Perfect.


Call before a malfunction cost you time, an expensive safe opening or cracking and repair service to restore your home, business or office security.
You may have difficulties or can't unlock a safe, combination will not work, electronic lock is making a noise, handle or lever is slipping or locking bolts getting stiff and not fully retracting.

If you neglect your safe a number of things could happen and may end up not opening!
A combination can fail, handle may turn or spin but not retract locking bolts resulting in a lock out then calling a locksmith and receiving a costly bill.
Need a new safe?
We carry a selection in our Sacramento Lock Shop. Our warehouse stocks AMSEC and is near by. You can browse or PDF catalogs for larger safes and vault doors.
Home Safes - Digital and Combination Dial with Key.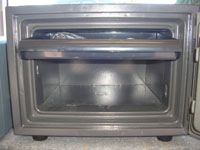 AMSEC Digital Home with an Electronic Lock. Roomy compartment with pull out shelf. Easy to read display shows Combination Key Pad, Date, Day, Time and Seconds.
General Home Fire Combination Dial and Key Access. Roomy compartment with pull out shelf. Fire Rated
Wall and Under the Counter Safes
Gardall Digital Home Wall with Key Access. Along side is a Perma Vault Cash Drop Safe for quick under the counter solutions.
Document Safes, Fire Safes and Hopper Safes
AMSEC Fire Rated Document with Re-locking Device and adjustable shelf.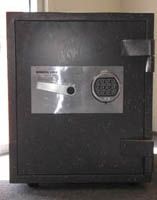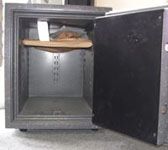 General Digital Fire Rated Document with Re-locking Device and adjustable shelf.
Cash Drop / Hopper Safes
Front loading hopper with lower compartment dial combination lock. Lock protected by hard plate and external re-locking device.
Gun Safes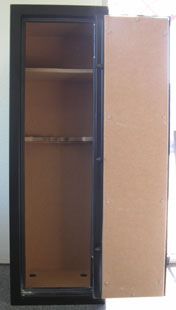 AMSEC Fire Rated Gun Safe with lined compartment ready to stack your rifles, shot guns, hand guns and ammo into. Bolt down kit with 4 pre-drilled holes.
All safes lock, unlock, have a mechanical, electronic combination or key and need annual servicing.

Safes serve many purposes and are built to suit specific needs. Common types are security, fire, depository, floor and wall safes.

Old safes have keys and dials with mechanical locks. Most new ones have digital keypad and electronic locks, some still have conventional mechanical dials and keys.

Some Digital Key Pad Malfunctions are Weak Batteries, you may be able to access and fix this your self. With Digital Key Pads please check battery before you call.

A lock box, dial or bolt work may be loose and need servicing.
The door handle or lever may have a loose screw, slipping or sheared off.
You may have to struggle to pull the door open due to an unadjusted hinge, loose or misaligned bolt works or lack of lubrication. Contact us for solutions.